Our Services
Pre-Construction
We regularly work with our customers, consulting engineers, and various other parties involved in project development to assist with determining budgets, creating and defining scopes of work, verifying specification items, and many other processes to assure that when a project reaches the construction phase, the customer will get what they want, when they want it, and stay within their budget.
Electrical Construction & Maintenance
Industrial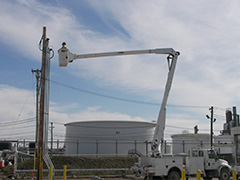 When it comes to industrial electrical construction and maintenance, Lytle Electric has the equipment, tools, knowledge, and experience to provide our customers with whatever they need to get their electrical project done safely, efficiently, and cost effectively. The mainstay of our work has been in the areas of oil & gas production, petrochemical refining and pipeline industries. While we have been involved in those industries for more than 50 years, we have also completed a vast array of projects in other industries, including coal fired power plants, grains processing, alternative fuels, textiles manufacturing, food production & packaging, automotive parts manufacturing and agriculture. With our I.B.E.W. affiliation, we are able to supply skilled manpower for any size project, big or small. We are experienced in installing and maintaining all types of conduit, cable trays, bus ducts, all types of wiring & cabling including low, medium, and high voltage, instrument cables, fiber optic cable, and more. We regularly install, calibrate, & connect process instrumentation and controls, install and program variable frequency drives and PLCs, install & connect motor starters & controls, and perform most other types of industrial electrical installation, maintenance, and troubleshooting.
Commercial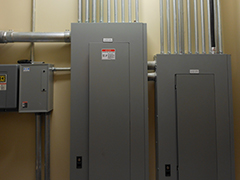 From maintenance, to remodels, to new construction, Lytle Electric can meet the needs of any commercial electrical project. Our list of clients include health care facilities, schools, municipalities, fitness centers, airports, car dealerships, parks, banks, offices, and much more. We have the experience and expertise to ensure complete satisfaction with all aspects and during all phases of your next commercial project.